Walnut and Cherry cutting board 11 1/2"x17" 1-3/4" thick - Select Michigan Hardwood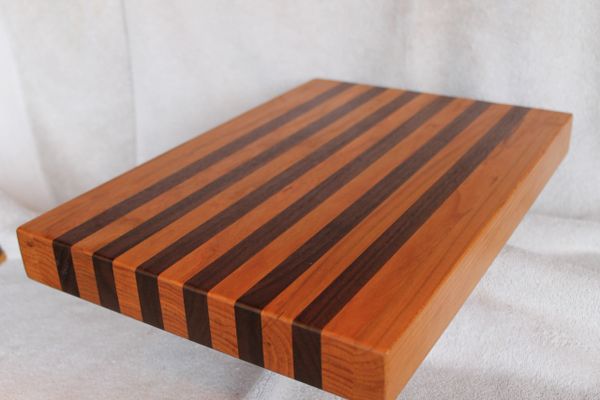 Walnut and Cherry cutting board 11 1/2"x17" 1-3/4" thick - Select Michigan Hardwood
Handmade from select Michigan hardwood - Walnut and Cherry cutting board 11 1/2"x17" 1-3/4" thick.
Made on our small Michigan hobby farm. with love and care by my family, for yours. Everything but the glue (FDA approved for food contact) was sourced or produced locally, right down to the beeswax/mineral oil finish made from Michigan bees. This is a great cutting board that with proper care should last a lifetime. I'll also include a small amount of finish to help you take care of it.
THE WOOD: Whenever possible our wood comes from local artisan sawmills that collect wood from city trees that would normally be thrown away or turned into firewood. Small volume means wood that you can't find anywhere else (grain,color,etc ) and it shows not to mention it's a sustainable wood source.

We can make custom sizes and shapes as well. Just ask, we will work together to create the perfect piece.
*Because wood is a natural product, variations in color, grain and knots should be expected.

Reviews