Personalized teacher sign, back to school teacher gift, teacher name pencil sign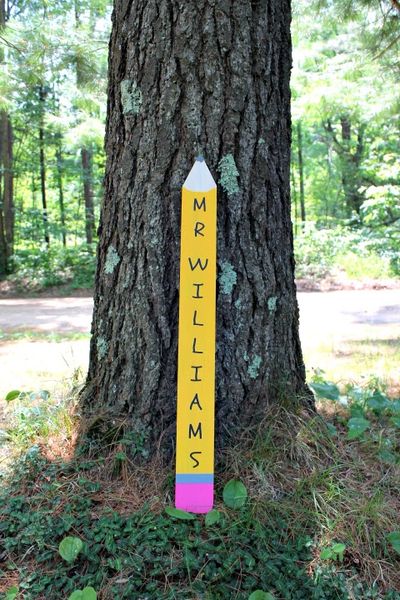 Personalized teacher sign, back to school teacher gift, teacher name pencil sign
 Our "personalized vertical teacher pencil sign" makes a great back to school gift. This personalized teacher pencil sign measures 3.0 inches by 30 inches and is painted to resemble a number 2 pencil. Perfect addition to the classroom. 
  Mounts to the wall vertically, back of sign has keyhole for easy mounting
**************** HOW TO ORDER ****************
When checking out, please include the following in the "Personalization" box:
The exact spelling of the name you would like: Please use desired punctuation. 
If you have any questions, please contact us and don't forget your font choice!
We can make custom sizes and shapes as well. Have a idea, just contact us and we will design your perfect piece.
Whenever possible our wood comes from local artisan sawmills that collect wood from city trees that would normally be thrown away or turned into firewood. Small volume means wood that you can't find anywhere else (grain,color,etc) and it shows not to mention it's a sustainable wood source. 
Maiden Wood Signs and Crafts
Thank you for visiting our listing. We are excited to design your perfect sign. Our signs make excellent anniversary gifts, garden signs, man cave signs, trail markers, whatever you can think to mark, memorialize or moniker.
Each piece is custom made on in our workshop on our small hobby farm in Northern Michigan's Manistee Forest  Each piece is made with care from our family to yours. 
**Because wood is a natural product, variations in color, grain and knots should be expected**
Reviews